Micromax Q55 Bling a cute, feminine, diamond studded phone looking all white and flashy! Well the stunning looks throw a big expectation of it being a good phone, but we don't think it lived up to it. The Micromax Q55 is quite similar to the Nokia Twist and Motorola Flipout but unlike both the phones this one is targeted towards the ladies! Not very rich on features and we are pretty sure that this phone will only be sold for its looks.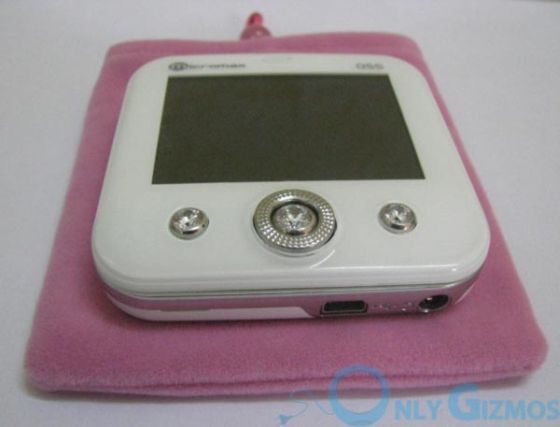 The phone is designed to appeal the girls, it has a mirror behind the screen which makes it very obvious. It unveils a large QWERTY keypad by flipping the phone open, when opened it is a bit bigger than the Nokia E71. The backlit QWERTY keyboard is much more impressive than the Q7 we saw but then the weird design of the handset makes it a strict women piece. The usual suspects in a micro USB port and 3.5mm audio jack are present.
As expected the Q55 isn't that deep when it comes to feature set. An ordinary 10 mb internal memory (expandable using the MicroSD slot), a Opera Mini that won't work for any other sites than the bookmark (updating to Opera Mini 5 helps) also we are not able to get the GPRS working on this phone. The audio output is not that great, when it comes to the loud speaker the sound level is low and the bass is replaced by a lot of boom, while the earphones are just about decent. The 2 megapixel camera is not really great. Also, the camera doesn't function unless you have the slider open (even though the camera is visible on the back cover). The Micromax Q55 Bling does not have WiFi and I really doubt if the target market here in this price range even bothers about it.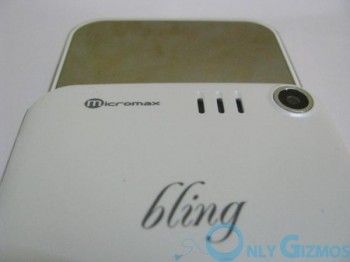 Though the Q55 has a subjective but good design, I don't see too many young girls around me who are addicted to heavy messaging and calling will find this phone to be a dependable handset. Why not go for the Nokia C3? or any other low range Symbian that will give more SMS storage and reliability. My mom might like this, only if she can handle the big design and accept the QWERTY (which I don't see happening).
The box contains:
Handset
Charger
Battery
Handsfree
User and Service Guide
CD
USB Cable
Warranty Card
Velvet Pouch
Quick look over specs:
Dual sim support
2 MP Camera, Video Recording
Music Player powered by Yamaha
FM Radio
Expandable memory upto 8GB (MicroSD)
QWERTY keypad
Preloaded Opera Mini Browser
Facebook, Nimbuzz, Multi Instant Messenger